Alex & Ani
The word of the moment seems to be sustainability. There seems to be two schools of though about the buzzword: Those that feel like nature and conservation is being shoved down their throats, and those that genuinely want to help protect our planet. I consider myself to fall into that second category, but I often find it's hard to truly live a completely "green" lifestyle. And all too often, I forget that there are several stylish, and affordable options to make my wardrobe and accessories more earth friendly.
Alex and Ani
is just one example of an accessories company who commit to making earth-friendly pieces that don't scream granola. Not only do their jewelry designs have a beautiful fluidity and sense of movement, but all pieces are created by hand from recycled metals. Founder Carolyn Rafaelian is deeply committed to being a friend to our plant, and being as conscious and eco-savvy as possible. In addition, all Alex and Ani pieces are made in the United States, which helps cut down on the trail left behind from global shipping, and ensures unparalleled quality.
But the most interesting and unique aspect to Alex and Ani is that all jewelry is customizable, to fit each wearer perfectly. This is because of their expandable concept, which replaces traditional jewelry clasps with a sliding mechanism. Instant perfect fit. And if you have the perfect fit, then the jewelry's not wearing you. It's part of you, a truly organic accessory that not only adorns, but completes someone.
Featured in such publications as
Teen Vogue
,
InStyle
,
People
,
Glamour
,
Vogue
, and
Elle
, you know that the line is fashionable. Now all you need to is pick up one of these unique, timely pieces. Some favorites include: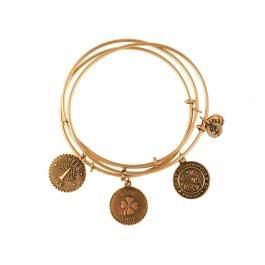 Lifetime of Luck- Set of 3, $58
Saint Christopher Expandable Wire Bangle, $21
Ascending Dove Expandable Wire Ring, $86
Halo Fleur De Lis Necklace, $98