Light at the end of the tunnel
Sorry I've been so out of commission....I was given the lovely Christmas gift of mono the very day I got home for break. Typical. However, I have dragged myself out of my sick bed and am trying to get back to a decent posting schedule--one of my 2009 goals! What better way to start than with a beauty post?
The Look: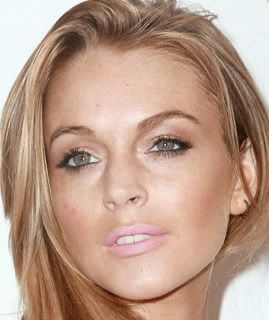 Lindsay Lohan at the "Ugly Betty" preview party earlier this year.
I just think she looks so fresh here; her tan isn't orange at least. And I'm obsessed with the pale pink 60s lip. It reminds me of the look at
Miu Miu S/S 2006 RTW collection
, and, more recently, the lip-look at
Proenza Schouler's S/S 2007 RTW collection
The Interpretation:
no snickering!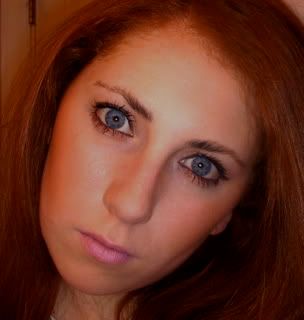 So, I'm not as tan as Lindsay up there, and no bronzer can get me that dark, but I feel that if you're fair-skinned, caking on the bronzer just looks bad. Even so, a little can go a long way.
The Products:
Aside from my usual liquid foundation-moisturizer mixture, I used:
CARGO Bronzer in "Medium"
Urban Decay Eyeshadow Primer Potion
M.A.C. eyeshadow in "Mythology"
Hard Candy Eye Shadow Quartet in "Disco 2000"
CARGO Pencil Eyeliner in "82 Black"
Givenchy "Phenomen' Black" mascara
NARS velvet matte lip pencil in "Roman Holiday"
BeneFit Eye Bright eye pencil
The Procedure:
What I love about this look is that it's easy; it took me roughly ten minutes!
After applying my foundation and fixing my brows, I put on the primer potion. If you haven't bought this already, go do so IMMEDIATELY. I'm on my 5th tube of it now. Your eye shadow will literally stay on all day, no creasing, no wearing off. Amazing. Next, I applied my M.A.C. shadow all over my upper lid, and used a generous amount on my lower lid. Using the shimmery yellow shade from the Hard Candy Quartet, I blended it with Mythology on both lids. Next, I applied a thin line of the black eyeliner, making the line thicker on the outer lids. Do this for both top and bottom lids, and also get the water line on the lower lid. After applying a few coats of the Givenchy mascara, the eyes are DONE. For the cheeks, apply the bronzer to the hollows of your cheek bones, and blend up to your temples. I added a bit to the bridge of my nose and forehead, as well. Finally, for the lips, I put Roman Holiday all over, and, over top, applied BeneFit's Eye Bright to get that perfect pale pink. Yes, it's an eye pencil, but I believe in multiple uses for makeup! Optional: Add highlighter to your brow bone, temples, and jaw line. I love BeneFit's High Beam.