It's the most wonderful time of the year--Fashion Week!
So the buzz is that thus far, fashion week has been kind of a disappointment, like the designers are throwing in the bucket. All this aside, I've seen some things that I do like...so with that in mind, here's what we'll (maybe) (possibly) wear this fall:
Tory Burch, Fall 2008 RTW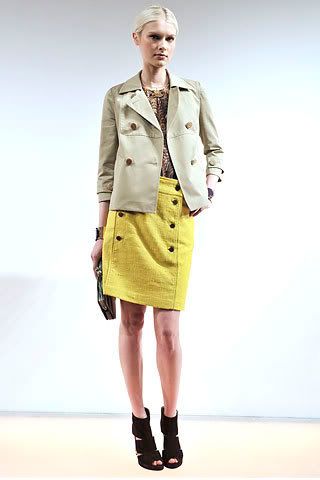 They may not be for everyone, but I'm kind of becoming a fan of shoes that are both delicate and tough, like the ones on this model. The thick straps are just so cool to me, but they're dressy at the same time. I know this is kind of like a quasi-boot, and slightly ridiculous, but it's fashion week, and I can wear whatever I damn well please. And the outfit's not bad, either. Lovely sunny color for the skirt.
Karen Walker, Fall 2008 RTW
Maybe it's because I spent 5 months living in Australia, and vicariously living in New Zealand, too, but Kiwi Karen Walker is a delight. I love this throwback to the seventies print, with the thick, wooly tights. I can't decide if I like the Peter Pan collar, but I think the outfit as a whole is working on me.
Malo Fall 2008, RTW
I COVET this outfit. The gloves, the hat, the sweater..all of it! Can't you just picture yourself scooting around some European city in this outfit?
More updates later, I promise!