Fool-proof outfit (aka, my current obsession)
Recently, I have been craving a chic, simple outfit, that doesn't scream "old lady" or, perhaps even worse, "trying too hard." Well, epiphany hit, and although this seems like a no-brainer, I swear it didn't occur to me how simple and chic--not to mention easy--this outfit really is. And the best part? I guarantee all of you have these sitting in your closet right now.
What you'll need:
-Simple knit tank, in a sheer white.
-Black pencil skirt, knee length, either high-waisted, or jack it on up.
-One of mom's old belts that magically fit her when she was your age, but now that we wear our pants down to our asses...well, you know the rest.
Seriously, all you do is tuck that tank top into the skirt, and if it's not high waisted, pull it up to right past your belly button, and belt it where the waistband is. Add heels, and some intricate gold jewelry, and you'll look so chic, you won't believe it. Honestly, it's unexpected gold.
My favorites for this look:
The Perfect-fit tank, $18.00, by J.Crew
The Perfect-fit tank
Kenneth Cole Reaction High Waist Pencil Skirt, $79.00, Nordstrom
Kenneth Cole Reaction High Waist Pencil SKirt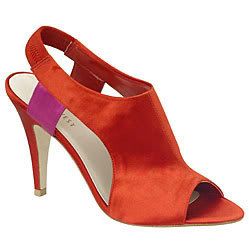 Nine West "Hotpic", $79.00, Nine West
Nine West Hotpic