Haute Couture Week!!
I've been so busy, I didn't realize that Couture Week was happening right under my nose!! After getting the appropriate rundown from Elle.com, I've picked my favorite looks:
Although at first glance, she might look like a three-tiered wedding cake, I really like this! The layers here really show off Saab's skills as a designer- if she wasn't careful the model would have looked squat, but she looks incredibly tube-like, and elongated. It doesn't hurt to be 5'9" either, but that's beside the point.
ELIE SAAB, SPRING 2007 HAUTE COUTURE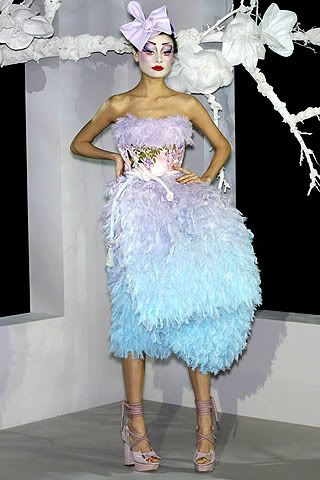 Never one to dissapoint, The House of Dior has created yet a another show-stopping couture season. Paying homage to Dior's iconic "New Look" of 1947 which put the designer on the map, the silhouette is nipped in the waist, creating a flattering hourglass shape. To add to the glamour, and to make a fresh statment, the clothes have been infused with an obvious eastern influence, with bright colors and cherry blossoms adorning the models' garb.
CHRISTIAN DIOR, SPRING 2007 HAUTE COUTURE