This Little Piggy Went To Prada
Sorry for the lack of postage as of late....working at Anthropologie has taken over my life, and...I TURN 20 TOMORRROW!!!!! AHHHHH. Hope everyone had a fashionable holiday...as for me, the best present I got by far was a 60s style mini dress from Anthro. But my second fave present was this little gem: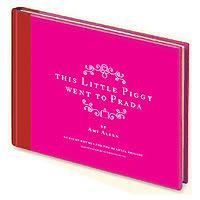 By Amy Allen
A play on baby's nursery rhymes, this book contains such adaptions as:
Cobbler, Cobbler
"Cobbler, Cobbler, mend my shoes,
Careful, please, they're Christian Lous.
Those red soles, they'll never date,
They'll still be hot in Spring '08"
All accompanied by lovely watercolor illlustrations, this is a delight to all those who know who Jimmy Choo is, or knows that Hogan trainers are fab.