what, exactly, is a ZAFU?
Upon bowsing elle.com, I came across a link for a jeans website that, after filling in a few key details about how your jeans fit you now, they would find you the *perfect* pair..or pairs! for you.. well, naturally, I was enticed, and hence where zafu.com comes in.
Seriously, all you have to do is fill out about 10 or so questions, such as, "How do jeans typically fit your waist?" and "from the front, you'd describe your waist as.." and so on. And, you're not stabbing in the dark here, it's mutiple choice! After I answered those easy-peasy questions, I was given around 14 pairs of jeans, all different designers, that would fit me perfectly, according to my results! This certainly takes the stress out of jean shopping for me!
Some of winners were:
AG Jeans, The Club, $136
Citizens of Humanity, Avedon Stove Pipe Jeans, $163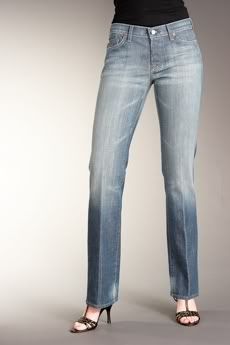 7 For All Mankind, Boy Cut, $180