....that certain, 'je ne sais quoi'
I don't know what it is exactly about French filles, but they seem to have such an impeccable sense of style. They could throw on the most missmatched outfit and yet it still looks so incredibly chic, you would think they spent hours standing in front of their closet, pondering what to wear.
Exhibit A:
Clemence Poesy, aka Fleur Delacour from the Harry Potter films, looks amazing here. I love the combination of the frilly dress with the opaque tights and knee high oversize boots. It's so genious.
Exhibit B: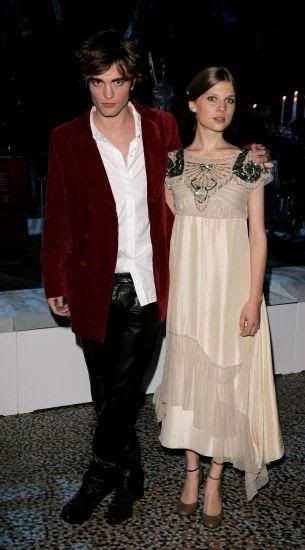 Once again, looking effortlessly beautiful, with minimal makeup and simple hair, and a nude colored dress with just the right amount of embellishments along the neckline. I must admit, she is my current fashion icon. I wish I could make up my mind as to whom to look to for inspiration, but that has proven impossible.
Want to dress like a french girl? Try these tips accumulated by MOI:
* Think QUALITY, not QUANTITY. A French girl would never buy several cheap pieces in bulk; instead she looks for something she knows will last and is well made.
* Look for items that are classic, that will stand the test of time. Don't ignore trends completely, but buy with care- look for something that transcends year, season, etc.
*Don't be afraid to experiemnt with color, pattern, and texture. Some of the best outfits result from being bold.
* Dress in what makes YOU comfortable. If you feel amazing in something, wear it! Confidence shines through any outfit, and if you feel good, then you'll look good.
*Lastly, just have fun with clothes..."lighten up, it's just fashion!"