Summer Lovin'
Maybe I'm biased because I work there, but Anthropologie has some ADORABLE clothes for summer right now! Yesterday was my first day back since Christmas break, and I have fallen in love with everything! And hey, with my 40% discount, I might be able to actually afford some of it. Two of my favorites right now: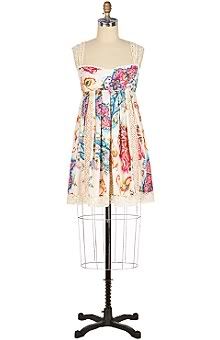 This dress is a wee bit short for me, and I would probably end up wearing it with jeans, but, if I were feeling brave, I would wear it alone with flats, or some mid-height espedrilles. My rule is if you're showing a lot of skin up top/bottom, the shoes shouldn't be crazy tall. This dress is Le Shack by Tracy Feith, fittingly called "backyard luau dress"...and costs $328.00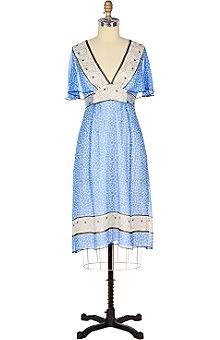 I love this because a) it's by Anna Sui b) it reminds me of my favorite vintage hankerchief, and c) the color is so damn summery! I haven't tried it on myself, but everyone who has tried it on looked amazing in it. And it seems to flatter those of us who are somewhat lacking in the chest department, accentuating what we do have. This Anna Sui dress, named "bea silk dress" is $228.00
These dresses can either be found at Anthropologie stores, catalogue, or website.