the BEST suits for summer!
I love the pattern on this one..it's so graphic and bold..sure to stand out. And the necklaces are a whimsical (if not impractical) touch. Bu thonestly, this suit is meant to show off, not swim in.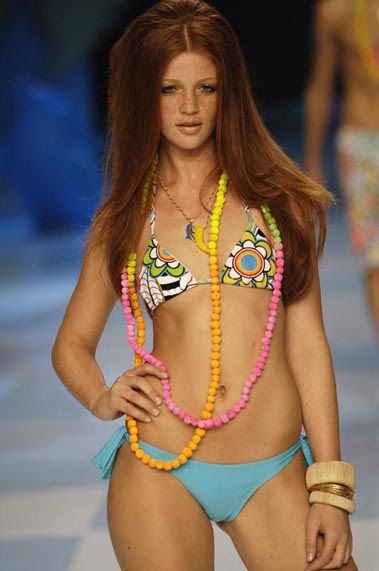 MOVIMENTO, SPRING 2006
This bikini reminds me of I Dream of Jeanie, for some reason. Maybe its the colors, but this suit is fabulous.
Nordstom.com, "Becca 'Hollywood' Bikini'
This next one gets in on the nautical trend that is so big this season. And with metallic teal and white stripes, it's a definite winner.
Nordstrom.com, Juicy Couture Beach Metallic Bikini
Not everyone likes a bikini..but no one wants to look matronly in a one piece, either. This si the chicest one I've seen, and, who doesn't love the slimming effect??
Nordstrom.com, Anne Cole Swimwear 'Suddenly Slim' Halter Maillot