Baubles!
Every now and then, I get a sudden urge to snatch up anything and everything I see that has sparkle, shine, etcetera, etcetera. Basically, I become a jewelry fanatic, even though I already have waaay to much collecting dust in many a jewelry box in my room. I thought I'd share with you all some great stuff I found...not too sparkly, perhaps a bit flashy, but come on: As Henry Wadsworth Longfellow quotes, "Youth comes but once in a lifetime."
This Betsey Johnson necklace caught my eye instantly. I don't know if it was the multiple chains or the cluster of charms, but it seems like it could go with so many different types of outfits; it could be dressed up or down.
BETSEY JOHNSON DOUBLE STRAND CHARM NECKLACE, $85.00, at NORDSTROM.COM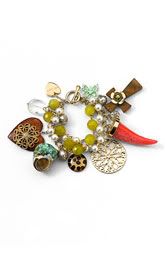 This bracelet, also by Betsey Johnson, while a bit crazy, is FABULOUS. Every charm is so eclectic, and I love the big, chunky bead and faux-pearl combination. Once again, I think this could be dressed up or down, depending on the outfit.
BETSEY JOHNSON MIXED MEDIA CHARM BRACELET, $85.00, at NORDSTROM.COM
As you might know by now, I'm pretty obsessed with Juicy Couture..not so much the track suits, but everything else I just love, love, love. These earrings, while flashy for some, seem to me to very elegant, but not stuffy at all. Perfect for the girl who wants to be fun and chic.
JUICY COUTURE SMALL HEART DROP EARRINGS, $55.00 at NORDSTROM.COM