Chloe's spring RTW 2006
I have only recently begun to discover the genius that is Chloe, and even though I am a poor college student, I can still get my fill through elle.com. The lace, the ruffles, the all out girliness has nearly givin me a heart attack. I put two of my favorite looks below: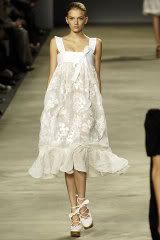 I love, love, love this dress...It reminds me of this chic apron that Carrie from Sex & The City would wear.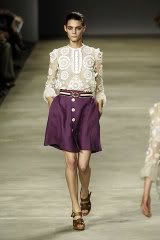 This is THE look I've been trying to copy for about a week now, trying to find stuff in the bottomless pit that is my closet..but alas...I have no clothes and it's February.